Headland Weathercheck
As part of its customer support package,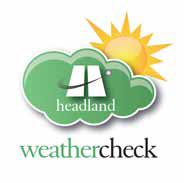 Headland Amenity, working closely with Meteoblue in Switzerland, provide a location specific weather forecasting service for golf clubs, sports grounds and other customers throughout the UK and Ireland. This service is called Headland Weathercheck.
Weathercheck features a general 7-day forecast and also provides detailed, 3-hourly, daily weather forecasts, showing predicted rainfall, expected wind strength and precipitation probability alongside a 14-day projection.
To subscribe to Weathercheck and/or Mark Hunt's Weatherblog please visit our website at: www.headlandamenity.com or email info@headlandamenity.com

Meteoturf
In 2015 this forecasting service was improved to feature a specific turf-related forecasting module called Meteoturf. This transforms forecasted temperatures into growth
prediction models using Growth-Degree-Days and Growth Potential. This enables end-users to see the pattern of predicted growth over the coming week, allowing them to identify uptake windows for fertilisers, growth regulators and pesticides. It also predicts potential growth flushes and periods of plant stress, facilitating a proactive rather than reactive approach to turf management.